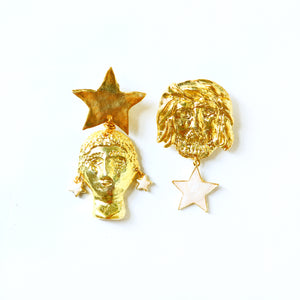 DESCRIPTION
Amfitrite and Poseidon are gold pleated brass. Charms are enamel and gold pleated brass. 
Amfitrite ve Poseidon altın kaplama pirinçtir. Sallanan uçlar mine ve altın kaplama pirinçtir.
Weight is 17 gr, length is 6.5 cm.
Ağırlık 17 gr, uzunluk 6.5 cm'dir.
SHIPPING
Since every Tanti is handmade, your pre-order will be shipped approximately in 5-10 days. If it is already in stock, it will take 2-3 days. Please contact for further queries. Thanks for loving Tanti!
Tanti'ler el yapımıdır. Siparişleriniz 5-10 gün içerisinde hazırlanıp kargolanır. Mevcut olan ürünler ise 2-3 gün içerisinde kargoya verilir. Tüm sorularınız için e-mail ile iletişime geçebilirsiniz. Tanti'yi sevdiğiniz için teşekkürler!