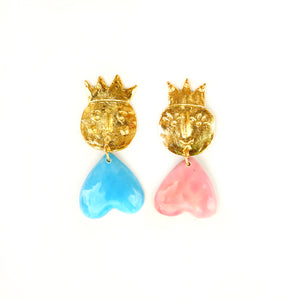 DESCRIPTION
Dudes are gold pleated brass and hearts are ceramics. 
Kafalar altın kaplama pirinç, kalpler seramiktir. 

Weight is 18 gr, length is 8 cm.
Ağırlık 18 gr, uzunluk 8 cm'dir.
SHIPPING
Since every Tanti is handmade, your pre-order will be shipped approximately in 5-10 days. If it is already in stock, it will take 2-3 days. Please contact for further queries. Thanks for loving Tanti!
Tanti'ler el yapımıdır. Siparişleriniz 5-10 gün içerisinde hazırlanıp kargolanır. Mevcut olan ürünler ise 2-3 gün içerisinde kargoya verilir. Tüm sorularınız için e-mail ile iletişime geçebilirsiniz. Tanti'yi sevdiğiniz için teşekkürler!